Kurdish Media, July 10, 2006
Kurdish womenís blood for cash affair : Mahabadís ordeal
In 2001 a body of a young lady was found in the PUK-led Kurdish city of Sulemani. Mahabad Abdualla had been kidnapped and murdered. Three years later, on 13 October 2004, the body of Mahabadís sister, Jiwan, was found. She had also been kidnapped and murdered.
A member of the PUK security forces (Asayish) was later found guilty of murdering Mahabad. After a long campaign by civil organisations, Salih Ahmed, known as Sala Muzali, was condemned and imprisoned for her murder.
However, on 13 May 2006, it was reported that the two families negotiated, with the help of the authorities via the PUK Social Bureau, to clean Mahabadís blood with cash offered to Mahabadís family. The question that the Kurdistani judicial system face is this: should crimes such as these be settled with cash? [1]
This is the background of these crimes, which reveals how power is abused by members of Kurdish authorities and party officials. This is a story of four sisters, Mahabad, Jiwan, Nasik, and Niya. [2]
On 13 October 2001, Nasik and Jiwan were kidnapped while they were waiting for a taxi to go home near the Karabaka neighbourhood of Sulemani. The two sisters were drugged. A few hours later Nasik was dumped near a local petrol station alive. Jiwan, however, was not that lucky. Three days later (on 16 October 2001), her body was dumped near the village of Qularas, near Kanabardakan in Sulemani, the PUK stronghold.
In an interview in April 2002, Nasik (Mahabad's sister), from her hiding shelter, said: [2]
"My late sister Jiwan and I were in a taxi. The taxi driver slowed down and said that a car was following us. The car behind stopped. Armed people came out and they put something on our faces and after a few hours dumped me. Three days later Jiwana's body had been dumped."
Two years before Nasik's murder her other sister Mahabad, who worked for the local electricity board, was kidnapped, and her mangled body was dumped after three days. It is believed that Nasik was killed because she gave evidence against the killer in court.
An influential member of the PUK armed forces and a high ranking member of the PUK Security Force (Asayish), known as Sala Muzali (Salih Ahmad Sharif), was accused of murdering Mahabad, but he had the protection of the PUK. He went free. Muzali was named after a type of Kalashnikov known as Muzali which he carries.
After the murder of their two sisters, on 10 December 2001, Nasik and Niyan took refuge in a womenís shelter in Arbil that is run by an independent womenís organisation. Muzali, according to information from the organisation, threatened them for trying to bring him to justice.
Muzali wanted to establish a sexual relationship with Mahabad, and to marry her. But Mahabad, a beautiful young woman, did not want to get married. Rejected Muzali, who regards himself as a high ranking and influential man, could not stomach the rejection. He used his position to pressurize Mahabad and her family.
In April 2002, Nasik said:[2]
"We were sitting at home. The PUK security forces [Asayish] attacked our home and searched everywhere and messed up all our belongings. They were very rude. They took my late sister Mahabad and I to the Sulemani Prison. Mahabad cried a great deal in prison. I was upset but did not cry as much as Mahabad. Mahabad was older than me and she sensed more than I did."
The two sisters were kept in prison until relatives and friends contacted the governor, Salar Aziz, of Sulemani, an educated man. When the governor realised that these two young women were arrested for some dirty reason and realised that this would be very embarrassing for the PUK, he invited them to his office and Nasik here relates what the governor told them:
"You are our sisters. Just pretend that you have been visiting your brother's home. Just pretend nothing happened. He [the governor] took us back home in his car."
The second episode started the day after, Nasik explains:
"That night we could not sleep. We did not know why we were arrested. In the morning we were having breakfast, when Asayish [The PUK Security Forces] attacked our home again. They told us not to shout. They said they were going to take us for few questions and bring us back. They took us back to prison. We were on the second floor. There was a roof-fin in the room. Mahabad shouted from the window saying that she would hang herself if she was not told why we were in prison."
After intensive personal contacts, the sisters were released again. "But we did not want to go home. We stayed with my uncles and relatives until we sold our house and rented accommodation somewhere else. It did not take long until Sala Muzali resurfaced again," Nasik explained.
Why was Jiwan murdered? Nasik explains:
"On the day of the trial, Jiwa gaven witness and said that she recognised Muzali's voice on the phone. Muzali threatened Jiwan in the court in front of the judge."
However Nasik accused someone else (known as Ako Fatah) for murdering Jiwana. "Now he is taking refuge in the KDP area," Nasik explains.
Muzali harassed Mahabad on the phone, and sometimes he talked to Jiwana instead of Mahabad. According to Nasik, on the day of the trial, Muzali brought a group of armed people to pressurize the court decision. This is how Nasik describes the day of the hearing:
"On the day of the hearing, Muzali brought a big group of armed people, who gathered in front of the court. They threatened and abused Jiwan before giving evidence. Then they started firing, and my older brother was hit with two bullets, one in his leg and the other one in his arm. He was taken to the hospital."
Was there any evidence against Muzali? Nasik explains:
"Mahabad's golden necklace and pieces of her hair were found in Muzali's car."
In February 2002, in an extremely embarrassing U-turn under public pressure, a spokesperson for the PUK Security forces [Asayish] stated:[3]
"In accordance with the instructions of Jalal Talabani, the head of the region [the PUK leader] and of Dr Barham Salih, the head of the government, we decided to open up the file of the victims [Mahabad and Jiwana Abdullah]. We were able to call the witnesses and take their statements again. After that the original evidence was destroyed under the pressure of a criminal who committed the crimes.
Through fresh investigation, it became clear that the evidence pointed to Salih Ahmad Sharif (known as Sala Muzali). He was arrested by the security forces and given to the investigating court. Under investigation, he admitted that he committed the crimes, and he provided evidence about the crime under supervision of the investigating judge.
He [Muzali] admitted that he killed Mahabad Abdullah because he wanted to marry her, but later changed her mind."
About the murder of Mahabad's sister Jiwan, the spokesperson stated:
Jiwana Abdullah was kidnapped by an unknown gang; the real criminal is known and will be arrested soon.
The spokesperson also admitted that the crime against this innocent family shocked the public sphere of Kurdistan, including human rights activists and womenís organisations.
In conclusion, this case is very important to show how the members of the Kurdish authorities are involved in organised crimes. It clearly shows that one influential person can use the government and party resources for his own interests.
These serious crimes must not be solved by money and justices must be prevailed. One crime must not be replaced by a state-controlled one.
Notes
[1] Rewan, bimonthly newspaper women Media and Education Centre, Clans of Mahabad and Jiwan and that of Sale Muzali negotiate, 01 July 2006
[2] This is a well-known case. The information here is taken from communications with a number of people, and from:
- Rewan, issue 19 dated 16 February 2002 and issue 20 dated 8 March 2002
- Yeksani, Paper of The women Independent Union, (An interview with Naski Abdullah) http://www.wpiraq.net/Kurdish/yaksani/Yaksani-53.pdf
[3] PUK Anba' Kurdistan, the Kurdistan News in Arabic of the PUK, 26 February 2004.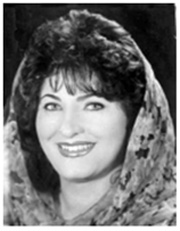 Mahabad Abdulla